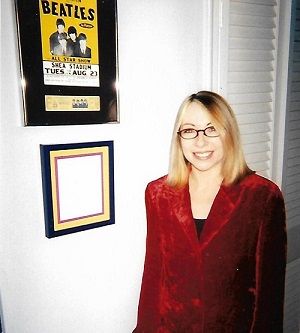 Marcy was the first female radio engineer with noted New York oldies station, WCBS-FM. After leaving WCBS-FM she went on to spend the next 10 years as an A&R manager - first at Arista Records and later MCA Records - where she placed many hit songs and signed successful artists including 'Til Tuesday, Men Without Hats, and The Thompson Twins, amongst others. Marcy then joined the world of music publishing where she headed the creative divisions of both Warner/Chappell and Sony Music (now Sony/ATV). Her success with artists and songs continued and she was awarded many gold and platinum albums by bands and artists such as Cinderella, REM, Rod Stewart and Starship. 
After Sony Music, Marcy joined ASCAP (the oldest, largest and richest Performance Rights Society in the US) as Senior Director of Membership East Coast. Again, she found herself signing writers and artists, nurturing their careers, critiquing songs and facilitating deals and acting as the writers' liaison with record companies, managers, publishers and agents. She was also credited with initiating many of ASCAP's programs that are still in effect today. These include Music Business seminars, Song to Song, Workshops in Jazz and Pop, The Advanced Songwriters' Workshop, monthly showcases and showcases on the road. 
Marcy also conducted lectures at Universities throughout the Northeast and taught courses on the Music Business for the National Academy of Popular Music and the Songwriter's Hall of Fame. She served on the advisory board of the Association of Independent Music Publishers, the NY Board of Governors of the Recording Academy (NARAS), where she co-chaired the Education and Charity Committees. She was also responsible for choosing the artists that appeared at the Songwriter's Hall of Fame monthly showcase series held in various clubs throughout NY. 
Marcy's last position in the music business was as Senior Vice President/Creative at Smoking Caterpillar Music, a full service music publishing company that placed songs with artists, as well as with movie and television soundtracks. Their roster included Edwin McCain, Marshall Crenshaw, Keith Reid and Anton Fig. 
While still the ultimate music fan, Marcy decided to pursue her other main interest – antiques and collectibles - and started her own business. Initially under the name All You Need Is Love, and later, Little Shiny Objects, where she specialized in Bakelite, costume jewelry and various other collectibles. 
Marcy made an impression on those she knew and worked with throughout her life and career, and will not be forgotten.