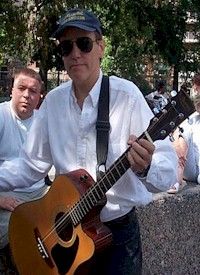 Joe Budnick    Photo: Sandy Hechtman 
October 22, 2015 | Filed under: Obituaries | Posted by: The Villager 
Joe always enjoyed seeing other musicians shine 
BY B. STEWART  |    Ernest J. Budnick, known to most of his friends as "Joe," was a musician and a major presence to those who would frequent Washington Square Park. But he was also a man of many other talents and accomplishments. 
He was a writer (author of a book on business technology), a video producer (Bernard Friedman Video Rock — a cable music program that debuted around the same time as MTV), an entrepreneur (in the early 2000's he hosted an open mic at the Baggot Inn on W. Third St. in Greenwich Village that led to the release of several compilation CDs by many of the artists who performed there). Joe was inquisitive, well read and knowledgeable on a variety of subjects. As one friend put it, "He knew a lot of stuff." 
"He was one of the kindest human beings that ever was," said Bernard Friedman. 
Joe started playing in a band as a teenager in Brooklyn. He later went on to form groups — Full Moon being one — with various singers and musicians he met while hanging out in Washington Square Park. Another one of his groups, Just Friends, held a residency at the legendary Village Gate. An earlier incarnation of Just Friends recorded a 45 single, "Keep On Playing." 
"We always had a lot of fun together…going out to different places, with Joe always being the upbeat, sometimes goofy guy that made everyone around us laugh," recalled Skip Mitchell, a singer with both Full Moon and Just Friends. 
In later years, Joe could be found playing in the park on any given day. He would always be inclusive and encouraging, welcoming other singers and musicians, beginners or professionals, to join in. He also loved to interact with both the tourists and local members of his audience — taking photos and posting them on his Web site at umo.com. 
"Joe had the unique quality of truly enjoying seeing other people shine, prosper and most importantly have fun," said Lori Behrman. "It was largely because of his constant encouragement and nagging I started singing in Washington Square Park, started a band, played in clubs, and wrote songs. He instilled in me the importance of surrounding yourself with positive and life-affirming people, and that life was too short to spend unhappy and unfulfilled. Even though he's gone, the lessons I learned from him will stay with me forever." 
Joe had health issues for many years but they never hindered him from rocking out with exuberant performances to the delight of onlookers. 
On many occasions he would be asked by people who would stop and listen, if he played in the park often. His reply usually was "I'm here seven days a week." 
He will always be here seven days a week.